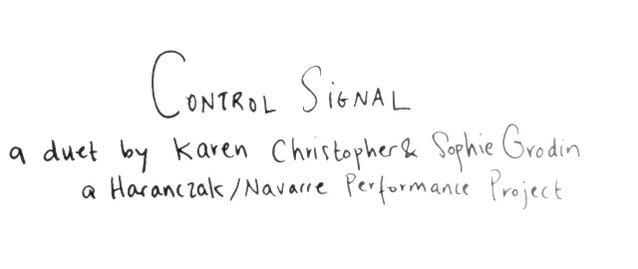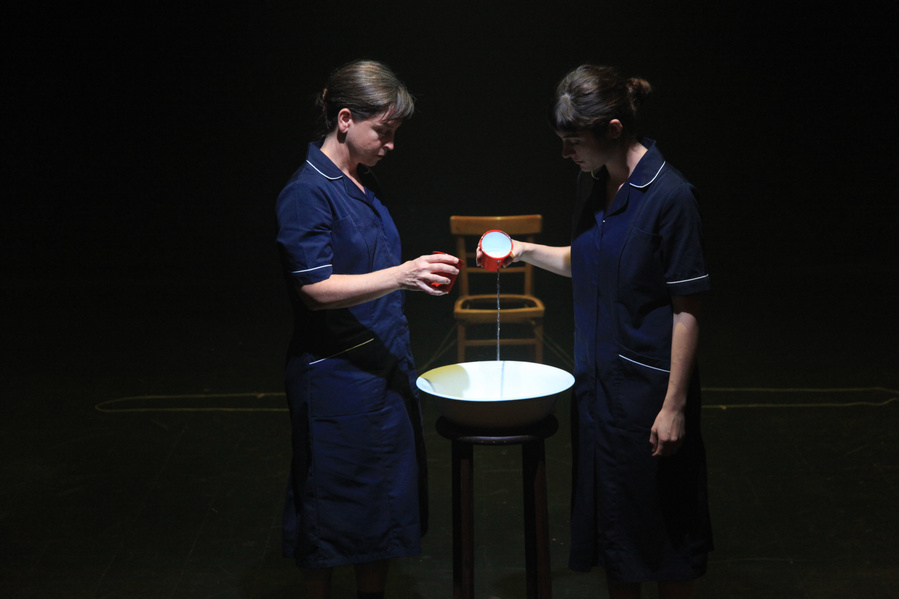 Control Signal started with an attempt to look at what you can't actually see.
Drawn by ideas of invisible connections between bodies, and bodies and a specific place, we investigate the body as conduit for the passage of electricity. We are researching our need to control our immediate surroundings; each other, nature.
Through an intricate journey that sometimes is a struggle, sometimes a chore and sometimes a surrender to a path we have set out for ourselves, we try and understand how our bodies can serve several functions. We test. We fail. We get up. We ask. We pull to lift, and push to move. We look at each other for an affirmation to continue, we translate movements into words as we go, we tell a truth. We allow for a controlled mess to happen.
How do we proceed in the safest possible way?
How does it help us if we know what the worst possible ending could be? How do we make sense of getting lost?
...there was once an elephant that was made to perform, there was once a woman called Ethel who died for something she may or may not have believed in, there was once a person who went looking in the city, there was once a dark room lined with the shapes of other people's heads, there was once a body that convulsed when it was struck by lightning, electrical current or elemental force, there was once a pair of hearts that beat in unison, a pair of arms that waved in time...

(Excerpt from Mary Paterson's text Consider This - a response to Control Signal)
Sound design by Boris Hauf
Lighting design by Martin Langthorn
Dramaturgy by Litó Walkey
Past Performances
28 November / 28 Tachwedd 2014, Canolfan y Celfyddydau Aberystwyth Arts Centre
18 November 2014, Beckett Studio, Headingley Campus, Leeds Beckett University

7 November 2014, EXPERIMENTICA14: CO-EXISTENCE HAS NEVER BEEN EASY

Chapter, Cardiff
5 November 2014, Performing House, York St John University, York
30 October 2014, Lilian Baylis Studio, Sadler's Wells, London (Presented by the University of Roehampton, Drama, Theatre and Performance department in partnership with Sadler's Wells.)
22 October 2014, Ivy Arts Centre, University of Surrey,Guildford

1 March 2014, The Performance Centre, Falmouth
2 November 2013, Broad Center Performance Space, Claremont, California

Premiere: 10 & 11 October, 2013, Chelsea Theatre, London
Preview: 3 October, 2013, Wickham Theatre, Bristol Universitywww.bris.ac.uk/drama/theatre/prog.html

June 16, 2012, SHOW TiME Rich Mix, London (work-in-progress)