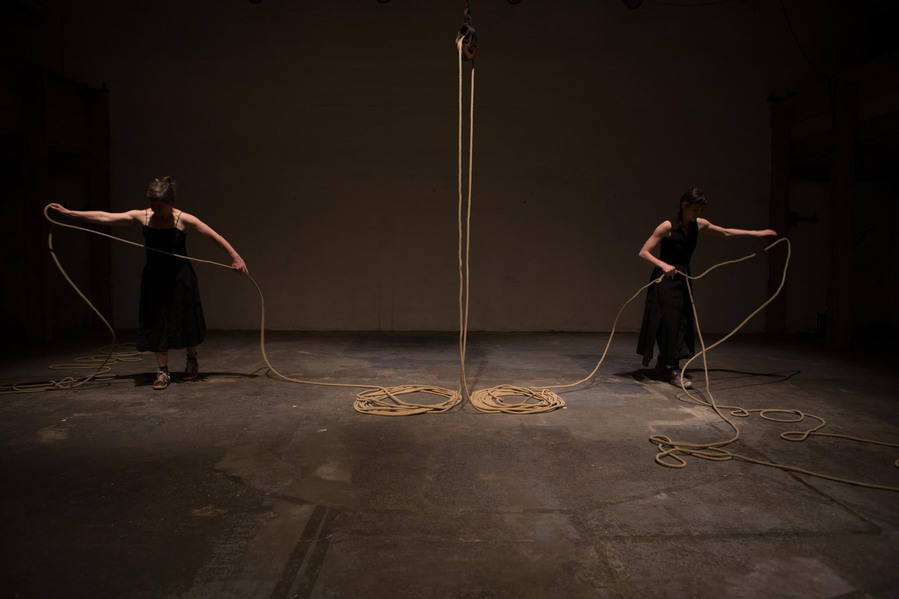 miles & miles is a performance positioned at the edge of a landscape. It asks the questions: How do we continue once we've lost our position? How do we accommodate ourselves on shaky ground and prepare for the uncertainty still to come? How do we become intimate with the inevitable fall?

Looking to a world of arctic blankness, flying leaps, and shear cliff face climbs (assisted by the able minds of Ingrid Bergman and Alfred Hitchcock, and including the dance moves of a scientist) the performers stumble through the artifice that distracts them from the fear of what is still to come.
Tied to opposite ends of a 100-metre rope, the performers hop, skip, cajole, and reminisce about other people's lives. The more they know, the greater the sense of uncertainty. They are suspended above ground. They are heading for the horizon. We know they will never get there. Still, they need a destination.
From Diana Damian's review for Exeunt of our work-in-progress at the Yard Theatre (April 2015)
... miles & miles is falling; it is groundlessness. It is also friendship, and working something from the unknown, and gently excavating the collective and individual memories that make up a theatrical encounter. It is to me, about what we might bring to this gathering, and what we might leave with; about being together in that exchange.
Christopher and Grodin always invite us to wander, then bring us back, and we enjoy watching them find their way back to us. In ropes, a ladder, water and a pulley, we jump from mountains together, feel the cold air brushing against our cheeks, pinches of water on our hands.
During Spring 2015, miles & miles was performed as a work-in-progress at Buzzcut (Glasgow) and The Yard Theatre (London). The piece will tour in 2016.
Devised, directed and performed by Karen Christopher & Sophie Grodin.
Sound design: Boris Hauf
Dramaturgy: Lito Walkey
Lighting Design and Production Management: Martin Langthorne