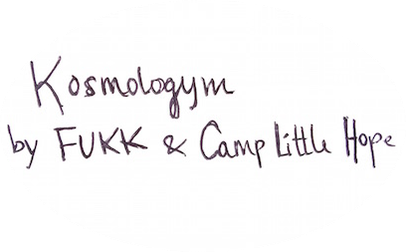 From 2017-2018 I worked as part of the Copenhagen based collective FUKK (Forenede Uafhængige Københavnske Kunstnere – or United Independent Copenhagen Artists), a self-organised art school, which was formed in 2011 from a desire to create an independent alternative to established art institutions and academies.
In a collaboration with the American collective, Camp Little Hope, we created the performative exhibition Kosmologym that existed for 3 weeks at Den Frie Centre for Contemporary Art in Copenhagen 19th January- 11. february 2018.
During Kosmologym, Den Frie Centre of Contemporary Art was transformed into an experimental ethics gym, where the audience engages in five different games, all putting questions of how we relate to others – people, plants, institutions, minerals – to the fore.
During the exhibition, musicians and guest artists were invited to interact and respond to the games through concerts, workshops and performances.